Ready for your next summer soirée?
Planning an upscale outdoor gathering can pose a challenge for even the most organized, so HW Home is here to help you get ready, whether it's a posh and perfect patio party or a fun and fabulous family BBQ. We have a large selection of outdoor furniture, tabletop necessities, and elegant accessories to make your event unforgettable.
No matter your yard space or style preference, HW Home has a furniture set that fits your unique taste and can transform your backyard into a true celebratory oasis. For larger patios and yards, we suggest filling the space with our comfortable Cardiff Three-Piece Sectional. The sectional comfortably accommodates six to eight guests and cleans up easily. If your outdoor space allows it, pair your new sectional with the matching Cardiff Swivel Club Chair to provide your guests with all the coziness of the living room. Don't forget to grab our colorful throw pillows and throws to add a luxurious touch and match your preferred palette.
We're thrilled to share our wide array of outdoor table options. Don't be afraid to mix and match—browse our selection to choose what fits best within your space and style. But if you're a champion of continuity in your outdoor space, HW Home can help with that, too. We suggest pairing our Cardiff Three-Piece Sectional above with the driftwood resin wicker Coronado Coffee Table. With so many possible combinations, no matter your choices, you can't go wrong. Each of our tables has a tailored, classic look that will add to the elegance of your yard, patio, porch, or balcony.
Of course, if your outdoor area is on the smaller side, that doesn't mean you need to skimp on style! Consider adding our rich walnut weave Cardiff Pub Table with matching cushioned seat, along with a few Cardiff Barstools. The casual, compact style of this outdoor furniture fits perfectly everywhere—from modest backyards to high-rise apartment decks. Or, if you're looking for a more modern style, consider our popular Dearborn Collection. The sleek and robust, fiber-reinforced concrete provides an exciting industrial-inspired foundation for your space while also showcasing your elevated style.
Now that you've chosen the furniture, let's accessorize. An outdoor dinner party can be one of the most elegant affairs you can host, so make your Memorial Day bash memorable. Bring a bit of modern inspiration to your outdoor table with our nature-friendly Bear-Up centerpiece. Created by Carrol Boyes, this tribal piece will definitely be a conversation starter. To complement the pewter and aluminum, add Boyes's sophisticated chip and dip sculpture. Also made with pewter and aluminum, this piece perfectly highlights the sensuality of the female form. And toss out those plastic cups for a more elegant option. The elegant geometrics and rich metallics of our Gold Ribbons Drinking Glasses will beautifully reflect the candlelight from your table.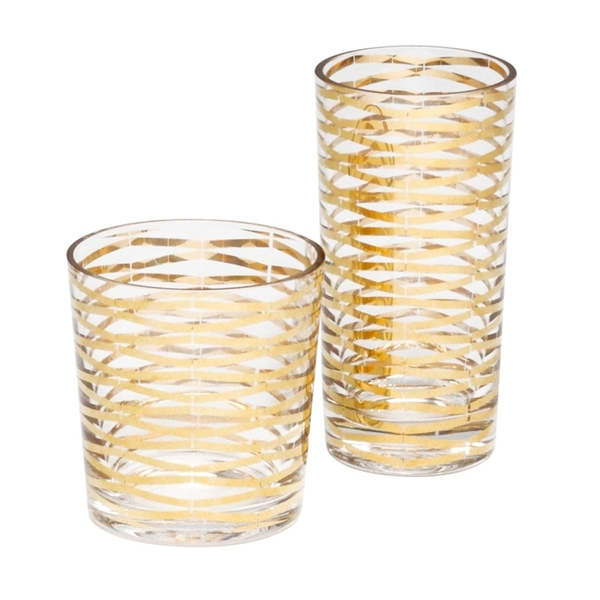 And of course, we can't forget the candles! Natural light casts a magical glow over your backyard once the sun begins to set, so bring an element of nature to your modern table with our elegant Onyx Votive Holders, or throw a pop of color onto your table with our Limoges Tumblers.The tumblers come in a multitude of colors and patterns and elevate the look of any table on a starry evening.
No matter your outdoor style, HW Home has the sparkle you need to turn a bland BBQ into an elegant affair that guests will be talking about all summer. Contact us today for an at-home consultation or stop by one of our stores!